Siân Mirchandani QC, 4 New Square, Lincoln's Inn, London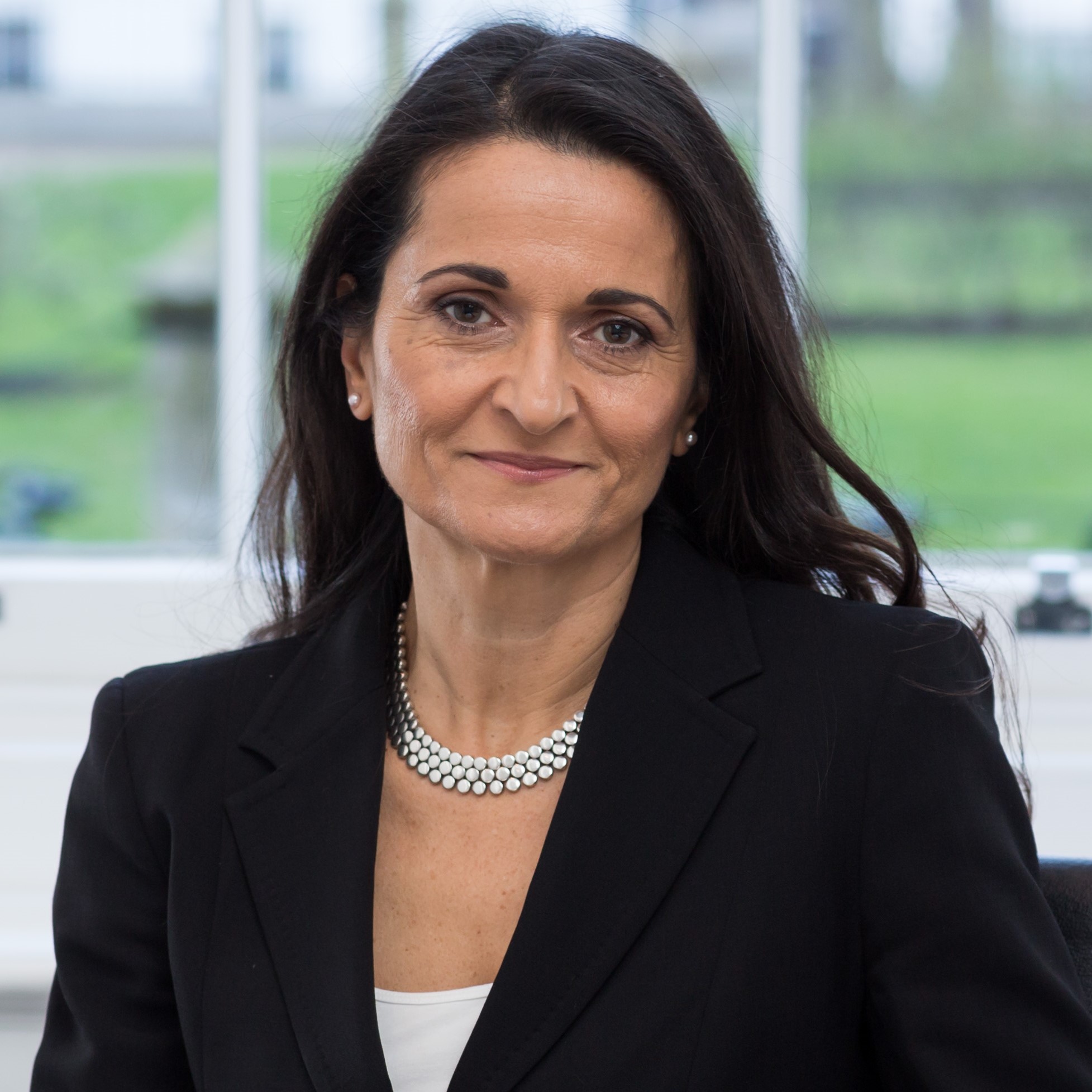 Called to the Bar in 1997, Siân Mirchandani QC was one of thirty women appointed silk in January 2019, following the QC selection process in 2018.  She had a broad practice which encompassed commercial disputes, construction/engineering, professional liability claims, insurance and disciplinary.
Siân's family background was British (Welsh) Asian.  Her Indian father was an immigrant doctor and her Welsh mother was a nurse, then medical secretary. Her father sadly died when Siân was twelve years old and Siân and her brother Neil (now a litigation solicitor and partner at Hogan Lovells), were raised in Swansea by their mother. The silk ceremony in March 2019 was a bitter/sweet experience for Siân as it was followed in the same week by the funeral of her mother.
Both Siân and her brother had attended a large local comprehensive school before entry to Oxbridge colleges (Siân to Emmanuel College, Cambridge). "I took the longest slowest route to the Bar – via becoming a vet first".  Siân chose this as an undergraduate subject as it appeared to be the "most challenging option available".  She had a brief but highly successful career as a veterinary surgeon, culminating in a prestigious position as a junior fellow at Bristol Veterinary School at Langford, which she greatly enjoyed.
However, when Siân started her second year, she found herself hankering for a new challenge and therefore embarked on a PhD in Cardiac Pharmacology, at Bristol University, with the benefit of a Wellcome Scholarship. Realising that she did not want to pursue a career in pharmacological research or the pharmaceutical industry, Siân sought professional careers advice, and undertook several vocational analysis tests.  The results of nearly all of these pointed strongly to an aptitude for law.  Having spent a few weeks 'seeing practice' with lawyers (both solicitors and barristers) she chose to move to London to take the Common Professional Examination at City University. From there Siân went on to the Bar Course at the Inns of Court and then pupillage at 2 Crown Office Row, London (as it then was, now 4 New Square). Following pupillage Siân was subsequently taken on as a tenant, and had remained at 4 New Square ever since.
After a brief spell doing clinical negligence cases, which she did not especially enjoy, Siân increasingly developed a commercial practice around technical and construction claims, encompassing insurance, planning, disciplinary and professional negligence.  Much of the work was highly technical, which Siân relished. Her expertise in veterinary medicine brought her unusual cases: claims involving regulatory drug testing errors; construction cases involving farm buildings, particularly where design or construction errors led to poor animal health and loss of productivity, and a steady supply of commercial work on animal feed claims.  Siân had found a great deal of synergy between her practice areas, and increasingly she was selected above others because she could bring a different collateral expertise into play. Her practice as a senior junior was split between five main areas: professional negligence, construction, commercial, insurance and disciplinary.
It was a difficult decision to apply for silk. As a divorced mother of two children, and being the principal wage earner, the risk of a drop in instructions and earnings was a major concern and consideration. Siân benefitted greatly from the encouragement of colleagues, clerks, judges and particularly senior lawyers (male and female) in overcoming her "self-imposed barriers" to making the application. Her chambers were also extremely supportive.  Her old pupil supervisor, Roger Stewart QC, was credited with providing a necessary 'strong nudge' to make her application in 2018, and the final impetus came when her instructing solicitors began to eshew the need for a silk, when Siân was instructed as a senior junior.  Having finally made the decision to apply for QC, Siân said she saw no reason to keep it a secret, and openly let it be known within her Chambers and outside that she was applying.
Siân created a '12 case grid' which enabled her to collate the material and information she needed for her application; and before writing to her assessors, Siân used the grid to collate dates, names and contact details of potential assessors and the documents from the cases. Skeleton arguments she had prepared were the most useful, though she also had to track down transcripts from trials. Some assessors had changed their position and had to be tracked down. Siân wrote to potential assessors to see if they could remember the case in which she had appeared, and offered to supply them with materials to assist in 'jogging' their memories. Most assessors did ask for the materials, though they had all remembered Siân's appearances and the cases concerned. Siân considered it might have been an advantage, in this respect, to have a memorable name and to have a different appearance from the average barrister. Nonetheless, she found this engagement with potential assessors difficult and very time-consuming, and much of this considerable time and effort would inevitably be nugatory because from the cases included in her application, and assessors listed, only a very small proportion would be asked to provide assessments.   Siân had expert guidance on the process from a consultant.
Siân said that the QC interview was "excellent".  She said it felt like a fair process where the applicant was given the chance to give of their best, and "not to be picked apart".  She found the CVs provided on the interviewers to be extremely helpful.  Her interviewers allowed her to relax and settle into the interview process and the interview was an enjoyable, if searching, discussion. Siân said she got the questions she had been expecting, and for which she had prepared thorough but concise answers. Siân knew, for example that one of the judge assessors had been critical in his judgment, on a legal point that Siân had taken in a trial before him. If she had had the choice she would not have listed that assessor for this reason, but it was a substantive case that appeared to tick most of the competency boxes, so Siân felt it had to be included. As matters turned out the judge's criticism formed a useful talking point at interview about resilience and how to deal with judges who openly disagreed in court with a point taken.
Siân wondered, given the importance of the interview in enabling the Selection Panel to assess the applicant face-to-face, whether there was a case to be made for a longer interview or even a second round of interviews. Siân considered that the evidence adduced from the interview should be given greater weight in relation to the other evidence (application form and assessments).
From her experience of making the application, and being successful on the first time, Siân said as an applicant you benefitted hugely if you started your preparation early – even if that simply demonstrated to yourself what cases you were missing and needed to get 'under your belt'. Seeing the completed forms of previously successful applicants was also "illuminating" – particularly in getting the tone right.
Siân said that the requirement to list up to twelve cases in a three year period was too demanding for many applicants in civil and commercial practice. She said "It affects women barristers more, and no one seems to realise this. I think the '12 case trap' deters many women from making earlier applications, and but for this women would be applying as early as men tend to apply". Siân felt that it would be fairer to make the 'standard' requirement eight cases, which in civil and commercial practice was still hard enough to achieve.
She said that there was a big time lag on a woman's practice following their absence on maternity leave, which the silk application process did not take account of fully.  Three years was insufficient. She herself had been a well-established and successful junior when she had taken five months out for her first child, and just six weeks off court work following the birth of her second baby. Despite what amounted to less than seven months total maternity leave over a three year period, it took a further five years to get her earnings back to the same level pre-maternity leave and that was not achieved without considerable effort and compromises.
The lag following return was not just shown in earnings. Siân had the demands of being a mother to one and then two very young children, on top of her own recovery from pregnancies, on her return to practice. As an older mother, this recovery was more complicated. At the same time Siân had had to earn enough to maintain her family – and a large part of her earnings had to be spent paying for the necessary childcare to enable her return to practice. Even with full-time child care, there were the disruptions of broken nights and childhood illnesses that had to be absorbed, on top of her long working day. Decisions had to be made at the time to prioritise the family's needs and expenses. Siân said being present during her young children's waking hours meant working very long days (returning to work every night at home after the children's bedtime as well as starting work very early in the morning). It also meant not being available for marketing events, which still occurred mostly in the early evening. Training events and getting CPD at conferences or lectures also took up precious family time, but had to be absorbed. Siân found she had to take on fewer responsibilities within Chambers and the wider profession, which impacted on her wider profile.
In these circumstances, there was very little scope for building back the caseload that might generate potential assessors for a silk application. Instead Sian waited until her children were older (they were aged 10 and 12 years when Siân applied in 2018). Even then the getting the necessary number of judicial assessors depended on being instructed in matters that went to trial or at least to substantive hearings. Siân said that despite being busy and back to previous levels of earnings five years after her last maternity leave she had still not been instructed on the volume of high calibre cases necessary to ensure she could find enough judicial assessors.  The encouragement towards ADR, pre-action protocol and trying to settle claims without trials (a good thing in itself) exacerbated the problem as there were fewer substantive hearings.  Other cases ran for so long that they spanned more than three years, but there were still no hearings.  And quite a lot of Sian's work was providing strategic advice 'behind the scenes' to insurers, or as a second opinion, or on property damage recovery actions. None of this high-level work included court work.
Siân felt that there were gifted young women barristers who needed encouragement to overcome diffidence and misplaced presumption that they were 'too young' to apply for QC. Many of the most talented women reported feeling a lack of being supported or sponsored, by comparison with their male counterparts. Siân said that it would be a good start if you could focus on assessing your case load, year on year, to see how you were doing in terms of getting enough court work. If you had a successful senior-junior practice and if you were being instructed in cases where a silk might be expected to have received the brief, then you should not hesitate overlong (as she perhaps had done) in making that silk application.
Siân now mentored young women lawyers and said that she wished there had been more mentoring available when she was coming through.  Her mentoring role involved reassuring these women that they were good enough and helping them overcome their own internal barriers, as well as actively planning next steps on their career paths.  At the time of the interview for this profile, Siân was encouraging two colleagues who were applying for silk this year, as well as mentoring (formally and informally) two solicitors.
By March 2019, Siân had already received a clutch of instructions in silk, and felt that her transition would be fairly smooth as her practice "was diverse and very responsive to the market place". She relished the prospect of even more interesting and diverse cases in the future.
Date:

March 4, 2020

Category: