Nina Grahame QC, Garden Court North Chambers, Manchester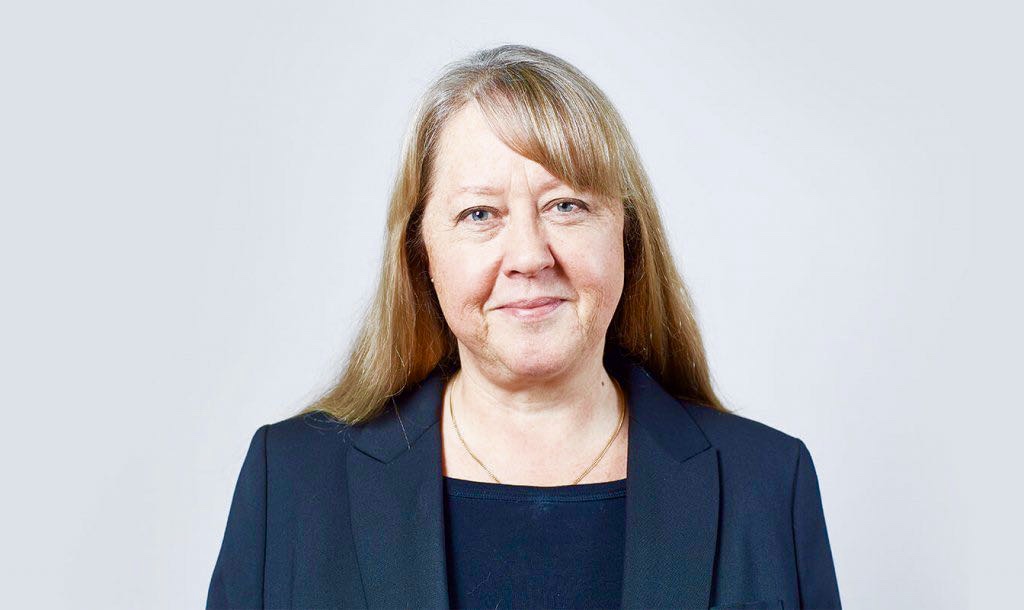 Nina Grahame QC joined Garden Court North Chambers – where she was now deputy head – in 2008 following fifteen years as a busy criminal barrister in London.  Nina was regularly instructed in the most serious cases including allegations of murder, manslaughter, drug- trafficking and money laundering and these cases often involved complex evidence of the use of cutting-edge technology and sophisticated anti-surveillance techniques by organised crime gangs.  She also acted, amongst much else, in international child abduction cases. She was one of thirty women successful in the 2018 silk competition.
Nina came from a working class background.  Her parents were aspirational for themselves and their children, and great believers in the opportunities that education could open up and keen for all their children to achieve their full potentials.  Nina passed her 11+ and attended local grammar schools, but she admitted that she did not make great use of that opportunity, leaving school at fifteen with "some indifferent O levels".  On leaving school she worked as an office junior, which she described as "an eye-opening experience".  It was enough in any case to propel her back into full-time education, taking her A levels at a further education college.  Nina was the first in her extended family to go to university, where she studied English and Theatre Studies.  After graduation, Nina worked as a professional theatre administrator in London for ten years, during which time she was also an active member of the (then) Greater London Council (GLC)'s first Community Arts Committee.
Nina's own background meant that she had never been exposed to the possibility of a career in the law – not until she "tripped" into the criminal justice system as an outdoor clerk.  In the 1980's and 1990's this was a popular 'second job' for people in the generally low-paid world of 'funded' theatre, and was a role that called for confidence, communication and people skills. Nina became increasingly fascinated by the criminal justice system and the work of defending barristers, eventually taking a degree conversion course in law at City University; at Bar School she obtained an outstanding classification and received the ICSL Certificate of Honour.  Nina said that it was never too late to discover a new vocational direction in life.
Nina said that she did not set out with any long-term plan to develop her practice with a view to applying for silk.  However, in recent years, she had felt that she had outgrown the role of senior junior: the experience of being led by some inspirational QCs had got her to the place in her career where she was ready to take the step up.   Nina had wondered whether her late start at the Bar might mean that she would be viewed as "too old" to become a QC.  A further concern was that her move north in the late 2000's, to an area where she was unknown and would have to re-build a practice from scratch, might have put her at a disadvantage in relation to her London peers, although she recognised working outside of London did have the advantage of being seen by fewer judges – who were more likely to be familiar with your work.   Nina said that the huge support and encouragement that she received from QCs, other colleagues and the judges gave her the extra bit of self-belief that enabled her to put her qualms about applying to one side.
The self-employed Bar could be an isolating profession to work in, said Nina.  It was therefore vitally important to remember to tell people when they had done a good job.   In the absence of a formal line-management structure, it could otherwise be difficult to gauge where you stood in relation to your peers.  This was especially true for women and those from more unusual backgrounds.   You had to overcome any sense of a lack of self-worth and, when being led, be prepared to push yourself to ensure that the judges (whom you might later call on to provide QC assessments) were aware of you as the junior and of your contribution to the case:  in many instances, a silk would only have been brought in relatively late in the proceedings and judges would be aware that much of the preparatory drafting and advocacy would have been done by the junior alone.  Nina said she mentioned to some judges that she was thinking of applying for QC in order to get an idea of how they viewed her work. She also said that you needed to be prepared to talk to your leaders so that you were given opportunities to shine in court e.g. in handling some witnesses.
She reached a point where she had the cases of sufficient substance to provide the necessary evidence, but had to wait a further year until a sufficiently big gap appeared in her diary to enable sufficient time to complete the application process. She had planned to only apply once and therefore intended to give it her very best shot.
Nina said that of all the competencies, 'Working with Others' had been the most interesting one for her to think about.  Working with and leading a team was something she did every day without necessarily consciously thinking about it. She learned a great deal from colleagues in talking with them about her team working style.  Nina said that barristers did not always give themselves full credit for the things they did day-in, day-out.  The QC Selection Panel needed concrete examples that illustrated your team working and leadership skills.
Asked how she prepared for her interview, Nina replied, "badly!"  She explained that as she entered the room she had a feeling that she had "over-prepared" in reading up copiously on cases, the law and legal articles.  In hindsight, she realised that she had already jumped a very important hurdle in getting to interview at all and that instead of 'cramming' she would have been more relaxed from simply re-reading her application form before the interview.  She found the interview "discursive and friendly".  It soon became clear that the interviewers had a real interest in her and a real grasp of her practice and cases.   In the end "it was a nice day" and the Panel were well able to see beyond any 'interview nerves'.
If she were to give any advice to people interested in a career in advocacy, particularly those who aspired to the highest levels of the profession, Nina said that they should take all the positives from life experiences even if they seemed rather removed from the work of a barrister.  Anything to do with working with others could be relevant, in terms of contacts, commitments and causes that gave you insights into how people tick. For her own part, Nina was a committed campaigner for animal as well as human rights, and she continued to have an active interest in the theatre as time permitted.  She also advocated and campaigned on behalf of women barristers: a current major concern was the pressures being placed on women as a result of courts' piloting extended hours by sitting earlier and into the evenings.
Women remained at a disadvantage at the Bar.  It was a highly competitive, male-dominated profession and family carer responsibilities still fell predominantly on women's shoulders; maternity leave, child care or older parental care responsibilities often necessitated part-time working and extended career breaks for women.  Nina said that whilst she had not personally suffered any actual deprivation as a female barrister, she considered that the support which women gave to one another in the profession was essential to help redress some of the imbalance between men and women.  Whilst formal mentoring did not play a part in Nina's pathway to silk, she did receive a huge amount of support from fellow women barristers including QCs.   Nina said that she would continue mentoring more junior women at the Bar as a new silk.
Nina was highly conscious that taking silk was financially prohibitive for many, in the short-term at least. She knew colleagues particularly in specialist areas such as housing and social welfare who were eminently suitable for QC but who would probably never apply because they could not afford to take the financial 'hit in areas where silk work was very limited.  Nina considered that it was incumbent on all those who were honoured with the title QC to stick to silk's work, leaving behind the senior-junior level cases for others to do.
Nina did not anticipate any great change in her work/life balance now that she was a silk:  "I never got it right before", she said, "So I can't see that suddenly happening now!"   She hoped, however, that her practice would get a little "smoother", the work a little less frenetic and relentless than it had been as a senior junior, with less "juggling" of cases.  Nina did not mind admitting it was all still a bit daunting, confessing that in her first appearance as a new silk, she had frequently missed having a leader to take the hard decisions.
Date:

March 4, 2020

Category: