Narita Bahra QC, 2 Hare Court Chambers, London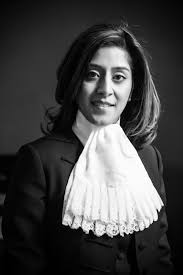 Called to the Bar in 1997, Narita Bahra QC became one of thirty women appointed QC following the silk ceremony at Westminster Hall on 11th March 2019.   Narita had a criminal law defence practice focusing on terrorism, murder, organised crime (including overseas drug cartels, firearms and armed robberies) and serious sexual offences.  She also worked on complex fraud and money laundering cases, often with an international dimension. Narita had various areas of expertise which included anti-competitive conduct, revenue fraud and fraudulent trading. Narita regularly appeared on national TV and radio news as a legal correspondent.
Narita was a second generation Sikh immigrant. Her parents had come to the UK from East Africa. Narita was the first person in her family to pursue a legal career, graduating from King's College London. Narita funded her university years through employment as a youth worker, a historian and by founding a modelling agency supporting BAME models. Prior to commencing university Narita co-wrote a history book.
Narita was awarded the Mansfield and Hardwicke Scholarships by Lincoln's Inn. She commenced her pupillage journey at 1 Harcourt Buildings (now 5 St Andrews Hill) and then 4 King's Bench Walk. Narita secured a tenancy at 2 Paper Buildings, later moving to 9 -12 Bell Yard (now Foundry Chambers) and then to 2 Hare Court.
Narita was of the view that the experience gained from working at these very different sets was extremely valuable, although she did feel that the speed of progress was hampered somewhat by her having no previous links with the profession.  She also said that it was still incredibly difficult to get into the top sets even if you had the necessary ability and willingness to put in effort and commitment. Narita's intended speciality and original pupillage commenced in Chancery law but took a diversion into crime the more opportunities she was given to wear the wig and gown in court. During this period, Narita studied part-time in the evenings for an acting degree, to keep her career options open. By the time Narita joined 2 Hare Court she had an established criminal practice. Narita discovered that her acting training provided her skills that were extremely useful in the courtroom, such as voice projection, pitch and capturing the audience's attention.
In order to become a successful serious crime and business fraud specialist Narita had to overcome perceived stereotypes by professional and lay clients, one of which was that for organised crime and business crime offences they needed to be represented by a male barrister. The way in which she achieved this was by making a conscious and financially difficult decision to target instruction in specific criminal areas.  She believed that had she not taken that difficult decision, she would not have been instructed in a sufficient number of cases which met the criteria of novelty and complexity, to enable her to successfully apply to become a QC. Narita considered that the Bar had changed tremendously in the last twenty years. Barristers had to be proactive and could not rely solely on their clerks for practice development. At the self-employed Bar an appraisal system or systematic feedback on progress was sorely lacking. Narita was of the view that the Bar still had some way to go in achieving diversity within the profession. As a female junior silk she had already had to tackle diversity issues within the profession.
Prior to taking silk Narita was at a stage in her career where she felt that she had reached "a glass ceiling", having undertaken the same level of cases on numerous occasions and was therefore able to cope running several of the most complex multi-handed cases simultaneously.  By the time of her application she was ready for the next challenge and believed that her work was of a level that merited the recognition that came with being a QC.  Narita was proud to be a role model for those barristers from diverse backgrounds who had chosen this challenging career.
For those who aspired to the most senior levels in the profession, Narita's advice was that it could be achieved by hard work, resilience, full commitment to professional and lay clients and by honing academic and advocacy skills. Narita's business background provided her with team and time-management skills which were necessary to effectively and successfully lead any team.
As to being in a position to make a credible bid for QC, Narita considered that you must retain conscious focus on undertaking cases which met the competency criteria. The key was not to confuse large-scale and fascinating cases with necessarily being substantial in terms of the QC competition definition.  It might assist if you could identify and make a note of what factors, in each of your selected cases, made them novel or exceptional.
Narita found written and oral advocacy (Competency B) the most challenging competencies to demonstrate in her written application. This was because advocacy was so much part and parcel of her working practice that she did not normally take time to reflect upon it. Identifying examples which fitted the competency criteria retrospectively was difficult.  She would strongly advise future applicants to keep a note of examples of their excellent advocacy as they went along. Start identifying the cases and the competency criteria of the application form two years beforehand, she said.  At the interview, you needed to answer the question posed in a succinct manner, illustrating the competency sought. You had to avoid wasting valuable time with preambles and summaries.
Overall Narita found the selection process taxing. In her opinion, this was not an application which could be successfully made half-heartedly.  You had to prioritise for twelve months the prominence of the competition in your life.
Narita's diversity work within and outside the profession provided her with examples to demonstrate her knowledge and pro-activity. Since her appointment as QC, she had been asked to involve herself in and lecture at further diversity initiatives within the profession and for BAME events. Narita said it was incumbent on those in the profession especially at the senior levels, to champion diversity in the profession and wider society.  Narita had throughout her career made time for activities that promoted greater diversity and improved opportunities for under-represented groups. This she believed assisted greatly with demonstrating examples for Competency D (Diversity).
Narita now mentored more junior colleagues, both solicitors and barristers. Narita felt that she personally would have benefited greatly from such support.  One of key positive changes Narita had already noticed since she was appointed as silk was that she now had greater control over her workload which enabled her (as a mother of two) a better work/life balance. As a senior junior in the run up to the QC competition her work caseload had been voluminous. Narita recalled that when she received her appointment letter it was the first time after many years that she had sat down to consider planning for the future. She hoped that time to reflect would be rewarding.
Footnote
In October 2019, Narita published 'Tackling Disclosure in the Criminal Courts – A Practitioner's Guide' (jointly with Don Ramble).
Date:

March 4, 2020

Category: