Melanie Simpson QC – 25 Bedford Row Chambers, London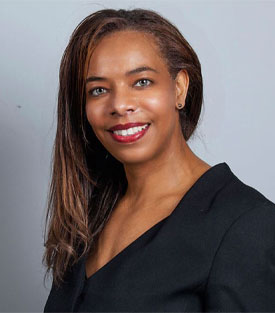 Melanie Simpson QC is one of thirty women appointed to silk in 2020.  Her high-profile criminal defence cases, often involving multiple defendants, attract extensive media interest and Melanie frequently provides legal expertise to media organisations.
Melanie's parents were young adults when they came to the UK from Jamaica as part of the 'Windrush' generation. Her father was a bus conductor and her mother worked in a factory.  Melanie went to grammar school but felt isolated as one of very few black pupils there. She left at 16 and worked for Rape Crisis and Women's Aid.  This experience brought her into contact with the criminal justice system and sparked her ambition to go to university and become a criminal defence barrister.
Following graduation, Melanie did her "first six" pupillage on the Western Circuit. It was unfunded and this was an extremely demanding time as Melanie had a young child to care for, having given birth just after her final exams at university.  Melanie's "second six" was a family pupillage but with occasional attendances at the criminal courts, which provided the final push to move across to that area of work, at Tooks Court Chambers, London.
Melanie considers that things have gradually got better for women barristers on issues such as maternity breaks, carer responsibilities and part-time working. When Melanie went to her current Chambers at 25 Bedford Row there were only two other women barristers who had children, compared with over half of the female barristers there now. However, there is still a long way to go as currently only three of the nineteen silks in her Chambers are women.
A few years ago, Melanie knew that with her level of practice it was time to apply for QC.  Melanie finally felt 100% confident that she was ready after a respected senior judge told her that she should put in an application. It took her another year to apply for QC because she was initially put off by the demands of the application form. She took the plunge in 2019, taking the competition process "one step at a time".
Like many applicants, Melanie found approaching her potential assessors took a lot of courage.  In the event, they all were all very supportive.  Melanie prepared for the interview by ensuring that she "knew my application form and cases inside out". She was "pushed hard" at the interview but the interviewers were clearly interested in finding out as much as possible about her and her practice.
Melanie considers that there are still many barriers to overcome to improve diversity at the Bar and make the profession more representative of the society it served.  In particular, class, race, educational opportunity and social mobility remain key challenges. Melanie says that her identity is formed as much by her working-class background as from being a black woman. She was delighted that those from similar backgrounds as her can now see "someone like me" in silk. To succeed in a career in the profession, Melanie says that you needed resilience and self-belief.  What you look like, or your accent or any other personal characteristic are irrelevant; what matters, she says, is how skilled and effective you are as an advocate.
Date:

February 26, 2021

Category: