Heidi Stonecliffe QC, Crown Prosecution Service, London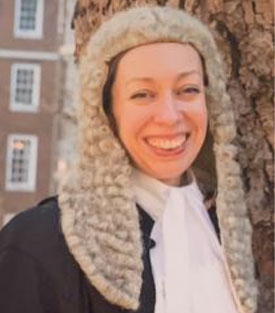 Heidi Stonecliffe QC has worked for the CPS since 2006 and is thought to be only the fourth lawyer – and the first woman – at the CPS to be made silk.   The daughter of a legal secretary and railway worker, Heidi attended a girls' grammar in Sittingbourne.  Her schoolteachers expressed surprise when Heidi told them that she wanted to become a barrister, having been inspired by reading Harper Lee's To Kill a Mockingbird. One teacher asked at the time "Do women do that?"
Called to the Bar in 1996, Heidi has practiced solely in criminal law, initially in a solicitors' firm defending clients facing serious criminal charges.  In 2006, she joined the CPS and developed a niche practice prosecuting large-scale, lengthy multi-defendant cases involving firearms, drugs and violence. In 2012, Heidi moved to the International Justice and Organised Crime Division prosecuting the most serious cases.  Heidi steadily built a portfolio of cases with a view to achieving silk following a "watershed" case in 2013 where the judge had said that Heidi should consider applying for QC.  Heidi delayed applying for QC until 2019 when Heidi had "the perfect storm" of cases and potential assessors and having received reassurance from QCA that she could include the 2013 "watershed" case and list fewer than twelve substantial cases due to the nature of her practice.
In September 2019, Heidi was "delighted and surprised" to receive an invitation to interview.  The interview was hard but pleasant, the interviewers well-informed about her and her cases.  She was delighted when a question came up on her 2013 "watershed" case.  Heidi felt that she had done well at interview but that she could have done better to demonstrate her commitment to and involvement in social mobility issues.  Heidi believes passionately that  increasing diversity in at the Bar is crucial if it is to become more representative of the society it serves.  Younger people needed to see more "people like me" at the senior levels of the profession.  When Heidi speaks to state school pupils as part of  her Inn's scholarship scheme, she finds that her own story – and things like her accent – help to  challenge  the persistent stereotype of the white, male, publicly-school educated barrister.
Heidi said hearing that she was to be recommended for QC was "the most extraordinarily happy, if somewhat overwhelming, news I have ever received."    She was "bowled over" by the number of messages from friends, colleagues and judges expressing delight when the official announcement was made some weeks later. Opposing advocates from hard fought cases were the first to congratulate her at the Old Bailey.
It had been an extremely unusual start to her time as a QC due to implications of the Covid-19 pandemic.   She had a case remotely "at" the Old Bailey later on the day the Skype interview for this profile took place in  May 2020.   Whilst the new ways of working were challenging they were also "something of a leveller":  the judge, counsel, police, the accused, witnesses and court officials all faced similar challenges.  However, Heidi was concerned about the potential longer-term impacts on jury trials and regressive impacts on access to the criminal Bar as a career
Heidi  was delighted that it had been possible for the QC Ceremony in Westminster Hall to go ahead just before the first 'lockdown'  She was accompanied by her partner, her two closest friends and her clerk, who never normally got to attend these sorts of occasions. Heidi said that applying for silk was "the best decision I ever made."
Date:

February 26, 2021

Category: