Craig Hassall QC – Park Square Chambers, Leeds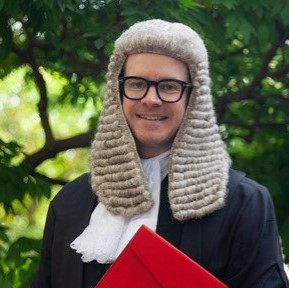 Craig Hassall QC was one of 116 new silks appointed in 2021 at the silk ceremony delayed until 1st November 2021 due to Covid-19 restrictions earlier in the year. Craig is head of the regulatory and public law team at PSQB, and his regulatory practice includes serious health and safety and healthcare cases, often involving fatalities. He appears for both regulators and potential defendants at numerous inquests, and his regulatory crime practice encompasses criminal proceedings brought by a wide range of other regulators in the areas of environmental crime, trading standards, fire safety and food safety.
Craig grew up in Scunthorpe in Lincolnshire, his mother working as a maths teacher and his father was employed in the local steel industry. Craig attended Thomas Sumpter Comprehensive School in Scunthorpe where, unusually, he was able to study for GCSEs in Law, being tutored in his lunchtimes and evenings by the school's head of music (who had an interest in law and was also a local JP). By the age of fourteen, Craig knew that he wanted to become a lawyer. After attending the John Leggott Sixth Form College in Scunthorpe, Craig secured a place at University College, Oxford, where he studied for his BA Jurisprudence. However, Craig nearly gave up his studies as he experienced what is now known as 'imposter syndrome' due to his background – or as Craig puts it, "I had a massive chip on my shoulder". His father told Craig that if it was all too much, he should not hesitate to return home, and Craig says that this took the pressure off him and he found that he was able to continue with his studies.
Craig's confidence was also boosted when the results of his first exams showed that he was on a par with his peers from more privileged backgrounds. Craig got involved in the university Law Society as Master of Moots. In his final year, the prestigious City law firms turned up in the annual recruitment 'milk round' to "hoover up the cleverest Oxbridge Law graduates" but Craig found no attraction in working in one of these big firms, feeling that his identity would be swallowed up in a "corporate black hole". Instead, he set his sights at becoming a barrister – despite a career advisor suggesting he "should not bother"! And in 1999 Craig secured a place at the Inns of Court School of Law, working full time in pubs in Greenwich, London to pay for his accommodation and towards his fees (his grandparents paying the other half). Craig took mini pupillages in Leeds and was called to the bar in 1999. He was offered pupillages in Liverpool and Leeds but opted for the latter so that he could be closer to home.
During his pupillage, Craig did "a mixture of everything" in crime and civil, narrowing to crime and family and then focussing just on crime. He did increasingly more crime cases that were financially linked such as benefit frauds and also linked to health and safety, the environment and trading standards. He meanwhile kept up more general criminal work. He gradually gravitated more towards prosecuting than defending ("it's just how it went"). By the time, Craig was ready to apply for QC, he was doing a mixture of general crime, financial crime and regulatory crime. As well as his busy senior-junior practice, Craig had also been appointed to three part-time judicial roles – chairing police disciplinary tribunals, as a Crown Court Recorder and chairing mental health tribunals. Craig considered that these roles would make him a more rounded candidate for silk. Having these positions also, coincidentally, helped Craig occupy some rare down-time from his day-to-day practice due to the Covid-19 pandemic.
Furthermore, Craig had put himself forward for these judicial positions in case (and assuming he was successful in the QC competition) his silk practice did not take off, he would have these other career paths to fall back on. Indeed, the alternative to applying for QC could be tempting, that is, to pursue a full-time career on the bench with a steady, guaranteed income, sick pay, security and a pension. Applying for silk was a particularly risky proposition for a criminal specialist as there was a real chance that your silk practice would not take off and that you would not be able to depend on cases where senior-juniors were normally instructed. You could effectively "price yourself out of the market" as successive reductions in legally aided work had reduced the number of silk certificates issued. So, Craig says, applying for silk had been one of the hardest decisions he had ever had to make. To his great relief, Craig's silk practice had in the event taken off. Craig credits this in part to a perverse impact of the court restrictions (due to the C-19 pandemic) meaning that there was currently no shortage of work for the criminal bar because of the backlog, with priority being given to the most serious cases. At the time of this interview (in September 2021), Craig was briefed in a succession of murder trials coming up in the next few months. He had been "very busy indeed".
Craig said that he was very fortunate to be appointed to QC after his first application. He says he had "expected to be knocked back". In Craig's view, one of the hardest aspects of applying for silk was the timing of your application, as you needed all the necessary substantial cases within the right three-years' time-frame. "Where one case dropped out and another entered the picture everything changed a bit like a Rubik's Cube" with the potential assessors radically changing. Craig said that he had it in the back of his mind to apply for silk for a number of years. In April, "the stars all aligned" with the required cases of substance in the past three years and the time suddenly available as his dairy opened up due to the pandemic. You needed to set aside a good two weeks to complete the form and it helped a great deal that he had kept notes of his cases as he went along over recent years.
Craig said that there was nothing much really to say about being a gay man (with a partner and a teenage daughter); the challenges such as child care and so forth were those of any busy working family man or woman. Perhaps he had been lucky in that respect, he says. The greatest diversity challenge that Craig had personally faced, he says, were those he had talked about earlier where at Oxford University he had had to overcome his sense of not belonging due to his regional, class and educational background. Since that time, in his professional life, Craig had come into contact with lords and the "cast of Skint" and everybody in between. He says it is a great leveller and you develop the self-confidence to deal with people based on their personal qualities, not on the basis of irrelevant characteristics such as class, accent and education.
When Craig was seriously considering applying for silk, he had approached his potential assessors in the same way as he had when he had applied to become a Recorder; namely to ask them, "would it be ridiculous?" for him to apply! Clearly it had not been. Craig enjoyed and was a little amused by the frippery surrounding the silk ceremony which was due to take place on 1st November 2021. He said the details of the ceremony were (when we met) as yet still rather mysterious, and that visiting Ede and Ravenscroft for fittings for his silks had been like something out of 'Harry Potter'. But he was greatly looking forward to the day, as it would be a great day out (and thank you) for his partner, daughter and his mother who had all been so supportive in his life and career and responsible "for keeping my feet on the ground". Craig was also looking forward to the chambers party being held to celebrate his success.
Craig's experience of the QC competition was very positive. He found the guidance to applicants to be extremely comprehensive, covering everything from completing the form to what to expect at the interview. It had been very reassuring and compared very favourably with the guidance available to candidates for judicial appointments. He found the interview testing but genuinely enjoyable. He had taken a few days to prepare for the interview and took a whole day out of a trial for the interview day to enable his mind to focus on the interview. The Panel interviewers were very well informed about him, his practice and cases, and clearly interested in what he had to say, keen for him to give of his best. It had been considerably less traumatic than he had expected, and much like a focussed chat. Craig was extremely grateful to QCA and the Panel for all its work in enabling the (Covid-19 compliant) interviews to take place face-to-face. To have done these by video-link would have been far more stressful. Using such links in courtroom contexts had been very challenging.
Date:

March 6, 2022

Category: