Amanda Brown QC – KPMG Law, London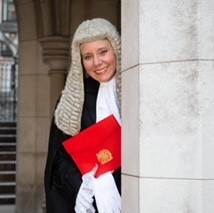 Amanda Brown QC, a tax disputes lawyer and partner at KPMG Law, was appointed to silk in 2021. She becomes one of a tiny number of solicitor-advocates who have been appointed to silk who are not international arbitrators, coming as she does from a multi-disciplinary practice.  As a higher-rights qualified lawyer, Amanda has appeared as an advocate at all tribunal and court levels having been the first lawyer in a UK accountancy firm to appear in the European Court of Justice.  Amanda is also a CEDR accredited mediator and in 2014 she was appointed as a Fee Paid Judge in the First Tier Tribunal (Tax Chamber).  Amanda is KPMG Law's first QC.
The daughter of a civil engineer and a housewife, Amanda spent her infant school years in Tehran, where her father worked as part of a small "friendly and tight-knit" engineering company.  On her parents return to the UK, Amanda attended state schools.  Her ambition to become an advocate dates back to when she was just four years old, inspired as "tiny dot" (Amanda is still short of stature) by Barbara Calvert QC, the wife of John Calvert, another civil engineer.  Amanda's "brilliant and talented" mum made Amanda a perfect little black gown and, using her quilting skills, a little barrister's wig.  Amanda used a large cardboard box as the witness stand to cross-examine her sister.
Barbara Calvert QC had a huge influence on Amanda's choice of career – and also that of many other young barristers, particularly women.  In 1974, Barbara had set up her own chambers, Four Brick Court, to help those starting out, becoming the first female head of chambers. In 1986, she became the first female QC to be appointed a full-time chair of Industrial Tribunals and, in 1977, Barbara helped set up new chambers (now 1 Pump Court) for young barristers starting out.  Barbara died in 2015 at the age of 89 but had suffered from Alzheimer's and Amanda says that she lost her "mentor and role model" some years before then.
Amanda says she briefly flirted with the idea of becoming an RAF fighter pilot when she was fourteen but she generally kept her career sights on the law.  However, she kept her options open by studying for a joint accountancy and law degree at Manchester University, where "I discovered just how good I was at, and loved, numbers."  Amanda was torn and rather tempted to become an accountant.  However, Barbara Culvert QC told Amanda that it was not an either/or decision and that she could successfully combine both strands – law and accountancy – in a career.  Barbara persuaded Amanda to begin her career in the law, not least because this would be the harder option to return to later in life (Barbara herself had been called to the Bar at the age of 35). And instead of applying for Bar school, Amanda was encouraged to initially qualify as a solicitor:  Barbara had the foresight to see that it would not be so long before high-calibre solicitors would be permitted to apply for higher court audience rights.  Also, initially becoming a solicitor would have the attraction of security of employment (in contrast to the largely self-employed Bar).  Amanda believes that even in 2021, job security remains a bigger consideration for female advocates than for their male counterparts.
Amanda qualified as a solicitor at Eversheds in 1993. An opportunity immediately arose at what was then HM Customs & Excise for Amanda to combine accountancy and law working as an advocate in relation to tax appeals, where she was soon marked out as a talented advocate who was given increasingly complex cases to lead on. Amanda seized another opportunity in 1999 when she successfully applied for a position at KPMG, where she set up the tax disputes practice.  At that time Amanda was only allowed rights of audience as an advocate at the first tier tribunals.  However, in 2006, Amanda had a case representing University of Arts London, in an application to 'leap-frog' to the Court of Appeal. Amanda, then still a non-practicing solicitor, was invited by Lord Justice Chadwick to represent the University as advocate.  Lord Neuberger who was on the board at the University told Amanda that there was a very low chance of success in the case.  However, the application succeeded – to Lord Neuberger's and to the University's delight. It was, she says, an "amazingly gratifying" experience.
Amanda had not even realised until 2019 that the QC competition was open to solicitor-advocates with higher rights of audience (and she intended to make this fact much better known in future).  But that was only days before that year's competition closed, so she deferred her application until 2020.  She was determined to put in her best possible application. Like several successful women applicants profiled in this series over the years, Amanda only intended to give the competition one shot.  It was, in her view,  too demanding and time-consuming a process to repeat.  She would advise future applicants to be certain that they were professionally ready to apply for silk – and that they were prepared for the hard work, and probably stress, that the process would entail.
Amanda had not thought that she had had much chance of succeeding in the QC competition because her experience was "too different".  In particular, whilst her cases were highly complex, she had very little cross-examination experience. However, Amanda – who admits to a great love for metaphor – built up her confidence by reminding herself that she "would be walking through the same door as all the other applicants. I will have simply arrived by a different mode of transport."   It was down to her to demonstrate her advocacy credentials through her application and through her interview performance – when she would be advocating on her own behalf.
She prepared for interview by chatting with other QCs she knew, who kindly gave their time, and by taking wider counsel and challenge.  The truth was that, in a not dissimilar way to Barbara Calvert QC before her, Amanda had to accept that she was a 'trailblazer'.  There were no precedents or templates to use. There was no-one out there like Amanda as a blueprint for QC.  Amanda realised that she would "have to be me" and "speak with my own voice" and hope that the system recognised her credentials for silk.
Amanda, however, greatly benefitted at interview from sessions which she had with in-house coaches.  Amanda is passionate about diversity in its widest sense and something that she was thoroughly imbued in: it could not be otherwise having had such an inspiring role model as Barbara Calvert QC. So, the diversity competency offered no fears for her in her application and at interview.  "Thought diversity' was a concept that KPMG uses alongside more conventional diversity characteristics in creating highly effective teams.
Amanda reacquainted herself thoroughly with all her cases and judgments, fully prepared to talk about these with the Selection Panel interview pair.  She also researched the backgrounds of the Panel members, having been inspired by a talk one Panel member had given which had covered the issue of how women advocates tended to apply later than their male counterparts when they were "more than ready".
The questions Amanda was asked at interview were all about her and her multi-disciplinary practice, which she says, "hugely surprised me – in a good way".  None of the questions she had been expecting – based on sessions with a consultant used by other QC applicants – cropped up.  It was far more tailored than that.  After the interview, Amanda had no idea how well or otherwise she had done.
KPMG had been an obvious fit for Amanda as it had long been prioritising diversity.  Again, using metaphor, Amanda thought of KPMG teams as machines made up of many cogs, wheels and parts that were all essential to the operation of the whole machine.  KPMG Law teams were made up of highly diverse members, but not just in terms of the more obvious and protected characteristics but also less apparent aspects such as preferred learning styles, and in terms of problem-solvers, supporters, leaders, challengers and so forth.
Amanda is passionate about identifying and developing talent, being willing to look beyond compelling credentials such as impressive academic qualifications.  She cites the example of a very bright black-heritage young man from a working-class background with acceptable A levels who was very interested in accountancy but not at all keen on attending university.  KPMG were able to see the potential, and the young man is now a successful qualified KPMG accountant. These days, apprenticeships are available in KPMG, providing a route to qualification for individuals not wishing to, or financially unable to, adopt a traditional route.
Amanda was also able to talk at interview about KPMG's sponsorship of City Academy Hackney (on which she was a director on the governing body) helping young people who were facing educational exclusion. Amanda is keenly interested in social mobility issues. She considers that many other diversity challenges (to do with ethnicity, gender etc.) would be hugely ameliorated if issues of social mobility were seriously addressed. She discusses how talented people from more disadvantaged backgrounds face a decision as to whether to adapt their identities (for example, the way in which they spoke and their accents) in order to progress in some professions, a process that might be thought of as being as analogous to 'passing'.  This has been a common theme in discussions with new QCs from less advantaged backgrounds profiled in this series.  The end result can be pernicious in that the system produces a fairly homogenous-seeming type of lawyer who dresses and talks in a certain way (reinforced by legal jargon and stereotypical portrayal in drams), who does not seem much like 'people like us' to the next potential generation of lawyers.
Amanda has developed her career in KPMG working alongside a team of some 2,500 tax specialists with whom she can exchange ideas and spar with intellectually on issues and problems.  Amanda was part of three-person partner team at KPMG Law, where her appointment to silk "means a massive amount".  Having an in-house tax silk means that internal clients "can simply phone me" instead of having to instruct an external silk – which will add further to case team cohesion as she will be able to lead juniors in KPMG Law. Furthermore, the firm's external FTSE 100 and other clients will have the benefit of the risk-protection provided by a QC which their Boards demand, without always having to instruct an external silk.
Amanda's credo in life and work is to 'pay it forward' (as coined in the eponymous novel by Catherine Ryan Hyde).  Amanda herself benefitted hugely from mentoring. So, for the future, a key aim for Amanda was to nurture and encourage a second and then a third silk from within the ranks of KPMG Law; and to help others beyond the company.
Amanda is working hard to encourage the professional bodies to do more to encourage advocates from non-barrister backgrounds to apply for silk, not just City firm arbitrators.  Amanda has already reached out to the Bar Council and the Law Society.  "Why not, if someone like me from a tax law background, QC solicitor-advocates from multi-disciplinary backgrounds like engineering, insurance or other technical areas?"  There needed to be more routes into advocacy other than the Bar, although Amanda recognised that that route would always be absolutely the right one for many people as it offered such flexibility.  Thinking more broadly, Amanda pondered whether the legal profession and the society it works for might also benefit from being seen as a potential career change option for those from other professions that call for high-level advocacy skills, such as professional bloggers, and thought leaders.
And, finally, for those just setting out on, or perhaps contemplating the next step up, in their careers, Amanda says, "never be afraid to ask for help." It is not a sign of weakness to ask for help – "it is a sign of bravery, strength". It was incumbent on leaders to show they too could be vulnerable; that they too were human.
Date:

March 6, 2022

Category: