Harpreet Sandhu KC – No5 Barristers' Chambers, Birmingham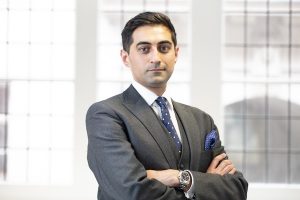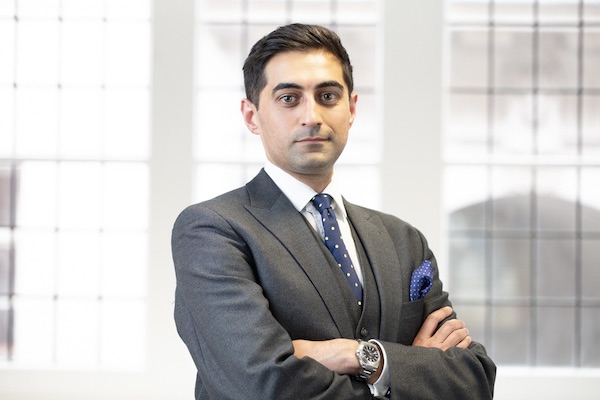 Harpreet Sandhu KC, whose parents emigrated to the UK from Punjab, India in the 1970s, joined the prestigious ranks of silk following the ceremony at Westminster Hall in March 2022.  Harpreet is a criminal practitioner who prosecutes and defends in grave and complex cases across the whole spectrum of criminal offences including alleged homicide and drugs conspiracies. Harpreet is also instructed by the Health and Safety Executive and the CPS' Complex Casework Units, Special Crime and Counter Terrorism Division and London Homicide Unit. He acts for professionals, including police officers, teachers and members of the medical and legal professions, who find themselves before the criminal courts.
Harpreet, who was elevated to silk in only his fifteenth year of practice (post pupillage) and following his first application, grew up in the West Midlands and attended an independent school. He studied English Literature at Durham University. He was the first in his family to attend university. Harpreet chose to study a subject he greatly enjoyed and wanted to take time before opting for a particular profession. Following graduation, Harpreet completed a fourth year at Durham University as JCR President at St Aidan's College and then worked on the graduate scheme of a management consultancy firm, during which time he decided that he wanted to pursue a career at the Bar.  Harpreet undertook mini-pupillages in his holidays before undertaking the one-year graduate law conversion course at City, University of London.
Harpreet then attended the Inns of Court School of Law, worked as a paralegal for a firm of criminal defence solicitors and started his common law pupillage in 2006 and became a tenant in 2007, focussing on crime but covering, inter alia, family law and personal injury cases from the moment he got on his feet. It was Christmas 2008 when, during an important conversation with his chambers' senior practice manager, it was agreed that from that day onwards, Harpreet should concentrate solely on criminal cases. It was clear that this area of law 'fired' Harpreet and was his vocation. He had a real passion for courtroom advocacy – "working with people every day on criminal cases really motivates me."  Crime has remained central to his practice, with a move also into niche regulatory (especially police disciplinary) cases and Health & Safety cases.  Harpreet considers that his early exposure to the broader range of common law cases as a pupil had "done him no harm at all", assisting and informing his development as an advocate, a senior junior and, now, in silk.
Harpreet was conscious that he was applying for silk relatively early given his modest thirteen years in practice when he decided to make his bid for silk in the Autumn of 2020. He had been leading juniors in big cases for some years, so it "seemed like the natural step."    The encouragement of judges and respected senior colleagues was also very important in the decision, as this revealed these people's confidence in Harpreet's excellence across the KC competencies. He had been thinking about his cases in terms of the requirements of the competencies at a level of excellence for a number of years so Harpreet felt he was well-placed to submit an 'early' application.
The ongoing Covid-19 pandemic in 2021 meant that Harpreet had the unusual luxury, for a usually extremely busy senior junior, of time to complete the lengthy and demanding application form. Harpreet says he owed a great debt of gratitude to a number of colleagues who assisted him in the application process ("acting as sounding boards"), and to one friend in particular. But in the final analysis, he says, "everyone's application form is different" and only the applicant can really know what to put on it in terms of cases and the evidence that spoke to the competencies.
Familiarity with your form boosted your confidence when it came to the interview (if you were fortunate enough to be offered one), says Harpreet.  However, he now considers that he actually 'over-prepared' for his interview (for which he had four weeks' notice). Barristers were rarely interviewed so it was perhaps a natural temptation to over-prepare for the interview, especially as so much seemed to hang on it.  (However, in reality, whilst the interview provided important evidence for the Selection Panel, the interview was not of itself determinative of the outcome, forming part of the package of evidence, alongside the self-assessment and the assessments from the judges, practitioners and clients).  With hindsight, Harpreet would have put less pressure on himself in the weeks running up to the interview.
The interview felt "short and intense", says Harpreet. The interviewers, "who had impressive CVs", made him feel as relaxed as he possibly could be in the circumstances. Afterwards, Harpreet could not resist a 'post-mortem' on how well or otherwise he had fared at interview and once Harpreet received the good news of his success just before Christmas 2021, he then had some three months to mull over his future in silk, so it was hard to relax.  The whole application and appointment process was extremely lengthy, and Harpreet says applicants need to be ready for the sustained and changing psychological pressures during that period.
Harpreet said that he did find it harder to identify and talk about excellent examples of Competency C (working with others) and D (diversity) than Competency A (knowledge and use of the law) and B (written and oral advocacy).  However, the more you thought about the former areas, the more you came to realise that what you did day-to-day in those areas actually fitted the criteria well.  It was important not to downplay what you did – for example proactivity in diversity – as not consequential enough for the application process.  You just needed to stand back and look what you knew and had achieved in these 'softer' competencies.
Harpreet considers being appointed KC to be an enormous honour, privilege and responsibility.
Date:

February 14, 2023

Category: